Paphiopedilum rungsuriyanum
3rd April 2023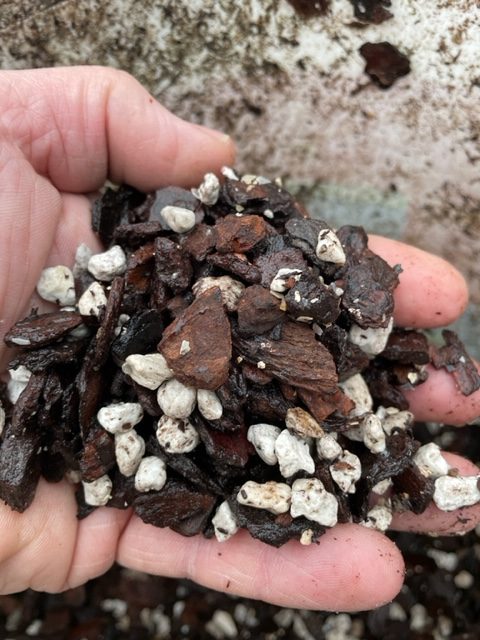 READY TO USE Premium Orchid Growing BARK ideal for Paphiopedilums and Phragmipediums as used in our nursery.
14th April 2023
Premium Orchid Repotting PINUS RADIATA BARK ideal for Paphiopedilums, Phragmipediums and other Orchids.
£9.99 – £48.25
100% FRESH NEW ZEALAND PINUS RADIATA BARK – Premium Orchid Growing Medium from New Zealand.
The only Real Great alternative to Orchidiata for repotting all types of Orchids and is suitable for most reptiles, amphibians and invertebrates too!
We use Grade 2 for seedings and small plants (50mm pot), Grade 3 for large plants (75mm pot) , Grade 4 for the whoppers!
Sold as an approx weight and loose volume
We also soak the bark overnight before use, to help wet it and enable it to adapt to your Pot situation quicker.
ADVANTAGES
– Natural with no added fertilisers.
– The PH level of un-aged Pinus Radiata Bark remains constant for years regardless of climate.
– Manufactured by Bark Products Tanaraki Ltd who has been producing renewable, sustainable and clean bark for over 24 years.
– Best value premium growing substrate, trusted by growers worldwide.
AVAILABLE IN 5 DIFFERENT GRADES
– Grade 1 (3-6mm)
– Grade 2 (3-9mm)
– Grade 3 (8-20mm)
– Grade 4 (20-25mm)
– Grade 5 (25 -50mm)
Bark Products Taranaki Ltd
Manufactures of Kiwi Orchid Bark
Twenty
-four
years
of
optimising
and
refining
the
plant
in
which
Kiwi
Orchid
Bark
is
produced
means
Bark
Products
Taranaki
makes
the
cleanest,
and
most
uniform
bark
grades
available
.
The
family
–
owned
and
operated
business
prides
itself
on
its
product
quality
and
consistency,
and
on
For more information:
❖
Visit our website
www.barkproductstaranaki.co.nz
❖
Kiwi Orchid Bark review and details on how to use by our New Zealand
–
based
distributer Bio Leaf Plant Nutrients
https://www.youtube.com/watch?v=KFl2KQToKVo
❖ Orchid Bark Substrate consists of natural bark chips so it really suitable for most reptiles, amphibians and invertebrates too!
Terrarium Substrate | Terrarium Supplies | Terrarium Decoration
Description
Additional information
| | |
| --- | --- |
| Size | Grade 1 (3-6mm), Grade 2 (3-9mm), Grade 3 (8-20mm), Grade 4 (20-25mm), Grade 5 (25-50mm) |
| Volume | 5 ltr approx. – 1.4kgs, 15ltr approx. – 4kgs, 50ltr approx., 15ltr approx. – 3kgs, 5 ltr approx – 1kg, 15ltr approx – 3.5kgs, 5 ltr approx. – 1.1kg |
Related products
Rated 5.00 out of 5

£4.95 – £24.25