Paphiopedilum Delrosi (delenatii fma vini 'Purple Panther' x rothschildianum 'Helios') OIV0167
1st November 2023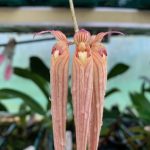 Bulbophyllum longissimum 'Elite's 1st'
15th November 2023
Bulbophyllum weberi 'Elite's 1st'
£14.25 – £22.25
Bulbophyllum weberi 'Elite's 1st'
Professor Oakes Ames named this lovely species in 1912, in the Philippine Journal of Science as Bulbophyllum weberi. Dr. Karlheinz Senghas transferred the generic ephitet to Cirrhopetalum in 1983, in the German periodical Orchideen. The specific epithet honours Mr. C.M Weber the collector of the type specimens.
Growth habit: upright, sympodial
Flower colour: dorsal sepal base colour yellow, heavily spotted with dark brown. Petals are similar colour to the dorsal sepal. Laterl sepal base colour is creamy yellow, lightly spotted with reddish brown. Labellum is cream with dark red spotting.
Easy to grow!
These cuttings are taken as divisions from our mother plants, so the flowers will match the attached pictures.
All bulbophyllums are supplied Bareroot.
Description
Additional information
| | |
| --- | --- |
| Size | Seedling, Small, Near Flowering Size, Flowering Size, Large Multiple Growths |