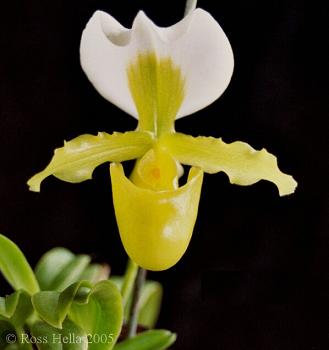 Paphiopedilum barbigerum var aureum 'Albino Beauty' AM/AQ/AOS x self
12th October 2023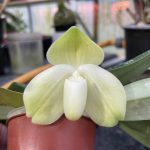 Paphiopedilum bellatulum fma album 'Green Form'
12th October 2023
Paphiopedilum Wossner Ministar (helenae 4n x henryanum 4n) PP1973
£44.25 – £75.25
Paphiopedilum Wossner Ministar (helenae 4n x henryanum 4n)   PP1973
Paphiopedilum Wossner Ministar-tetraploid is a primary hybrid between (henryanum x helenae) it is a lovely miniature which can produce 2-3 spikes on a relatively compact plant in a 4" pot or less.
In that cross we have used tetraploid parents (double chromosome number) in order to produce more impressive flowers with heavier substance that will last longer than diploids.
This is a very vigorous hybrid that is easy to grow. It also qualifies as a 'teacup' type since the plants are so small.
PLEASE NOTE: Since this is a Seedling Population (not a Mericlone which produces exact duplicates), the picture is for illustration purposes only. No two plants will be the same from this cross, and they will flower in a range of possibilities coming from the two parents.
Description
Additional information
| | |
| --- | --- |
| size | Seedling, Small, Near Flowering Size, Flowering Size, Large Multiple Growths |
Related products
Rated 5.00 out of 5

£84.25