Paphiopedilum Hung Sheng Bay
23rd August 2017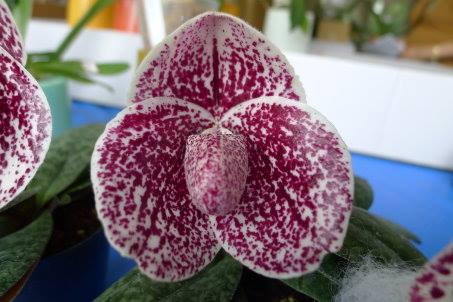 Paphiopedilum Death Star '#6' x Mac (Otogozen x bellatulum) 'CY+IC'
23rd August 2017
Paphiopedilum tranlienianum
£18.45 – £26.85
Paphiopedilum tranlienianum
This species is native to a small area of northern Vietnam.  Plants are miniature in stature.  Leaves are ¼" – ½" wide with a leafspan of 4″ – 6″.  Inflorescences are single flowered and 3″ – 5″ tall.  Flowers are 2″ – 2 ¼"across.  The dorsal sepal is white with a mahogany-brown central longitudinal stripe.  The dorsal folds over the pouch in the same way as Paph. spicerianum. The petals are yellow heavily veined mahogany-brown with the apical ¼ – ½ mahogany.  The pouch is dark tan veined mahogany.  These will benefit from a cooler period when growth has finished.  While this is a non-mottled leaved species it is not a multifloral and will not tolerate the high light requirements for that group.
Picture is for reference only
PLEASE NOTE: Since this is a Seedling Population (not a Mericlone which produces exact duplicates), the picture is for illustration purposes only. No two plants will be the same from this cross, and they will flower in a range of possibilities coming from the two parents.
Related products
Rated 5.00 out of 5

£84.25