Paphiopedilum concolor
24th August 2017

Bulbophyllum cocoinum
25th August 2017
Paphiopedilum lowii 'New Horizon' x 'Grand Masterpiece'
£74.50
Paphiopedilum lowii  'New Horizon' x 'Grand Masterpiece'
Grand Masterpiece is one of the best of this species. This is the first time Sam has been able to breed with GM having some decent generation.
Grandmaster has 8+ flowers
PLEASE NOTE: Since this is a Seedling Population (not a Mericlone which produces exact duplicates), the picture is for illustration purposes only. No two plants will be the same from this cross, and they will flower in a range of possibilities coming from the two parents.
Description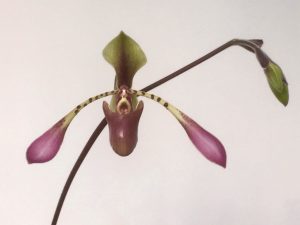 Additional information
| | |
| --- | --- |
| size | Seedling, Small, Near Flowering Size, Flowering Size, Large Multiple Growths |