Paphiopedilum Michael Koopowitz (philippinense fma laevigatum x sanderianum) 6024
1st September 2017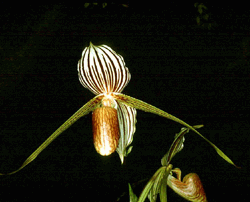 Paphiopedilum Bell Royal (kolopakingii (var Topperii) x rothschildianum 'Lilimo')
1st September 2017
Paphiopedilum Gloria Naugle (rothschildianum x micranthum)
£48.45 – £84.85
Paphiopedilum Gloria Naugle (rothschildianum x micranthum )
This is a popular multifloral. Mature plants will reach a 10″-12″ leaf span.
Infloresences will produce 2-3 Large flowers. Individual flowers will be 4-6″across. Dorsal sepal and petals will be cream-yellow basally and veined mahogany. the petals will be solid dark pink typically. The pouch will be a medium to dark pink with darker veins.
PLEASE NOTE: Since this is a Seedling Population (not a Mericlone which produces exact duplicates), the picture is for illustration purposes only. No two plants will be the same from this cross, and they will flower in a range of possibilities coming from the two parents.
Description
Additional information
| | |
| --- | --- |
| size | Seedling, Small, Near Flowering Size, Flowering Size, Large Multiple Growths |
Related products
Rated 5.00 out of 5

£28.25 – £38.45