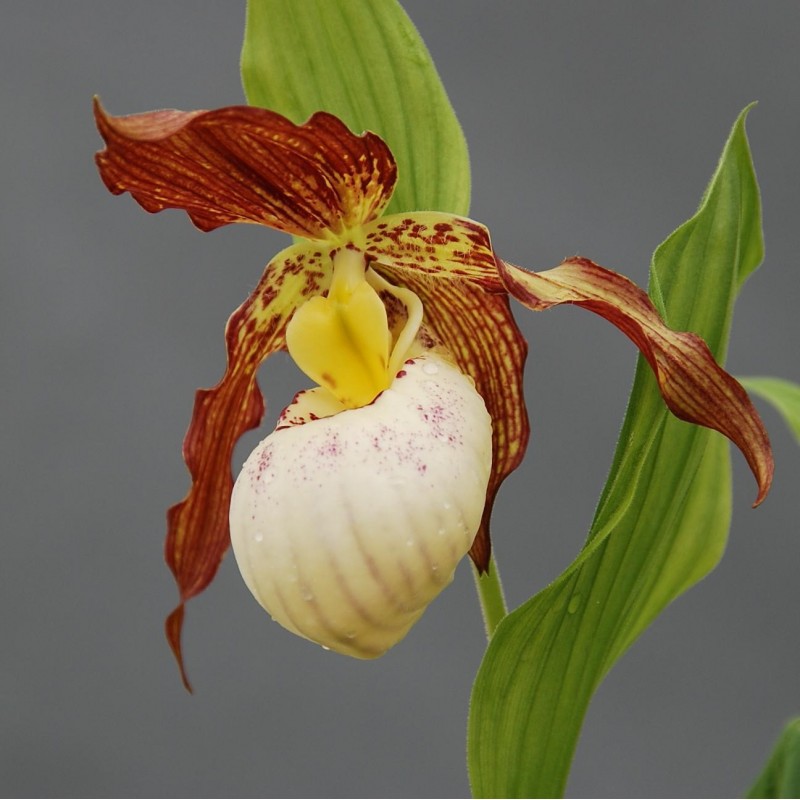 Cypripedium Gabriela (kentuckiense x fasciolatum)
21st April 2023
Neofinetia falcata 'Shinkiro'
29th April 2023
Cypripedium (fasciolatum x macranthos album)
Cypripedium (fasciolatum x macranthos album)
We supply these plants as 2 to 3 growth pots.
PLEASE NOTE: Since this is a Seedling Population (not a Mericlone which produces exact duplicates), the picture is for illustration purposes only. No two plants will be the same from this cross, and they will flower in a range of possibilities coming from the two parents.
Culture 
Cypripediums are among the most beautiful woodland perennials, but they are more exacting in their growing requirements than many of our perennials. However, Cypripediums do not like growing in containers and are very difficult to keep alive when grown in pots.  We recommend that you plant them as soon as possible using the following instructions. Autun]mn is the best time to plant so they can settle into their new bed for a good winter chill.
Planting  Cypripediums prefer soil that is low in organic matter and has good draining properties. Airing the soil is recommended, using a mineral substrate (at least 50%) such as sand, crushed clay pebbles or ideally lava stone (vulca). As organic matter, a little finely crushed pine bark or some compost based on coconut leaves or fibres could be added. DO NOT cram the roots into a dug hole in the ground, dig a shallow 2-3" deep crater and spread the roots out flat…no scrimping on width.  The roots should then be covered with loose soil. We do not recommend chemical salt-based fertilizers on Cypripediums orchid. A good balanced organic blend such as Osmocote Pro 3-4 month, will work best.
It is important not only that the rhizomes of the Cypripedium do not desiccate in summer but also that they are not immersed in winter. The various mineral substrates will ensure good moisture retention in summer while encouraging good drainage during the winter. We plant ours in a raised bed.
Exposure In the garden, we recommend planting Cypripedium in a cool, shaded or semi-shaded place. Sunlight at the hottest hours of the day is to be avoided at ALL costs.
Growing Phase During the winter, the plant persists in the rhizome form  beneath the soil and does not require any special protection.
The new Cypripedium shoots usually appear during April. Once started, the vegetation grows very quickly; in 3 to 5 weeks, the foliage has opened out. The flowering extends from the end of April to June. At the end of the summer, the foliage yellows then fades before disappearing completely. Cypripedium then go into their winter dormancy.
Over the years and following the successive growth and dormancy cycles, Cypripedium not only become stronger but also multiply, thanks to the annual appearance of new shoots.
Description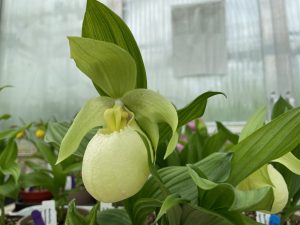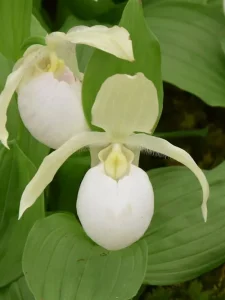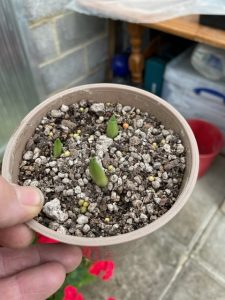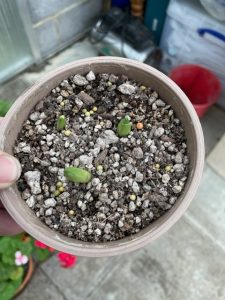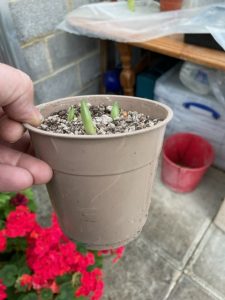 Additional information
| | |
| --- | --- |
| size | 'Lucy Pinkepank' (kentuckiense x tibeticum), Franchetii x Macranthos, pueblo, Gabriela, Fasciolatum × Macranthos f. albiflorum, 3 growth plant, 2 growth plant |
Related products
Rated 5.00 out of 5

£34.25 – £44.50