Phragmipedium Schroederae (caudatum x Sedenii) #00678
17th November 2017

Phragmipedium Ainsworthii (longifolium x Sedenii)
22nd November 2017
Phragmipedium schlimii "Birchwood" AM/AOS
£34.85 – £68.25
Phragmipedium schlimii "Birchwood" AM/AOS
Divisional cuttings of this well known Phragmipedium.
This plant was awarded as a schlimii in error, but it is actually a Phrag. Cardinale. Since that is how it was awarded, that is the name people sell it by and keep on it.  Other people also consider these to be the hybrid P. Cardinale.
A gorgeous flower, and piece of history either way.
Description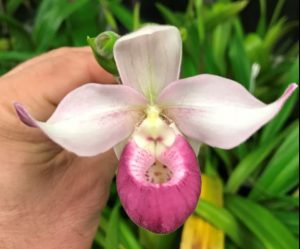 Additional information
| | |
| --- | --- |
| size | Seedling, Small, Near Flowering Size, Flowering Size, Large Multiple Growths |
Related products
Rated 5.00 out of 5

£24.85 – £54.80