Professional No 6 B.E.F 16cm diameter, 15cm high, 2 litre Phragmipedium/ Cymbidium Orchid Long tapered pots
14th January 2022
Paphiopedilum gigantifolium 'King Snake' x self OIT0044
20th January 2022
Paphiopedilum wardii fma album x sib ('Green Lady' x 'New Dimension') OIT0100
£19.85
Paphiopedilum wardii fma album x sib ('Green Lady' x 'New Dimension') OIT0100
Both parents are selected from Sam's second generation of our AQ strain with flowers over 12cm ns.
We look for huge albino!
PLEASE NOTE: Since this is a Seedling Population (not a Mericlone which produces exact duplicates), the picture is for illustration purposes only. No two plants will be the same from this cross, and they will flower in a range of possibilities coming from the two parents.
Description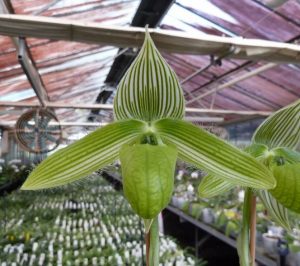 Additional information
| | |
| --- | --- |
| size | Seedling, Small, Near Flowering Size, Flowering Size, Large Multiple Growths |