Paphiopedilum sanderianum x sib ('Red Light' x 'Bionic Man' AM/CCE/AOS) OIP0105
Paphiopedilum sanderianum x sib ('Red Light' x 'Bionic Man' AM/CCE/AOS) OIP0105
Orchid inn's best color with 90cm long petals and wide dorsal. Here crossed with the first cultural and highest quality point score of this species.
Expect exceptional long petals and tremendous deep color from this cross!
Pictures are examples only of sanderianum flowers only.
PLEASE NOTE: Since this is a Seedling Population (not a Mericlone which produces exact duplicates), the picture is for illustration purposes only. No two plants will be the same from this cross, and they will flower in a range of possibilities coming from the two parents.

Description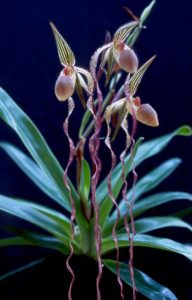 Additional information
| | |
| --- | --- |
| size | Seedling, Small, Near Flowering Size, Flowering Size, Large Multiple Growths |