Paphiopedilum Petula's Sensation 'Tannat' x Hawaiian Treasure 'Nebbiolo' AM/AOS PP1909
13th October 2021

Paphiopedilum Fanaticum (micranthum 'Red Fox' x malipoense 'Red Strips') PAP0233
16th October 2021
Paphiopedilum S. Gratrix x sib ('Black & White' x 'Black Star') TB18-079
£44.25 – £68.25
Paphiopedilum S. Gratrix x sib ('Black & White' x 'Black Star')  TB18-079
We managed to obtain some flasks from Tokyp Orchid Nurseries – expecting a lot from this cross!!
Picture is an example of Paphiopedilum S. Gratix only
PLEASE NOTE: Since this is a Seedling Population (not a Mericlone which produces exact duplicates), the picture is for illustration purposes only. No two plants will be the same from this cross, and they will flower in a range of possibilities coming from the two parents.
Description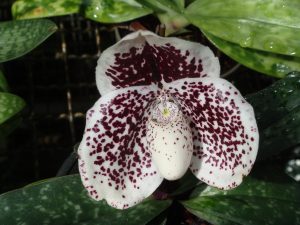 Additional information
| | |
| --- | --- |
| size | Seedling, Small, Near Flowering Size, Flowering Size, Large Multiple Growths |