Paphiopedilum stonei x sib ('Red Pouch' x 'HOF best')
31st August 2017

Paphiopedilum micranthum var. ebureum x sib ('Rainbow A' )
1st September 2017
Paphiopedilum niveum x sib
£18.85 – £34.25
Paphopedilum niveum
Native to Thailand and Malaysia, this is a very nice compact species that is in the background of all modern day complex white hybrids.
This plant is tolerant of minerals and a certain amount of fertilizer salts in the irrigation water as it grows on limestone cliffs very near the sea. The flowers are large for this plant being around 3″ (7.5 cm) in size. The flowers typically last about 6 weeks and emerge once or sometimes twice per year.
PLEASE NOTE: Since this is a Seedling Population (not a Mericlone which produces exact duplicates), the picture is for illustration purposes only. No two plants will be the same from this cross, and they will flower in a range of possibilities coming from the two parents.
Description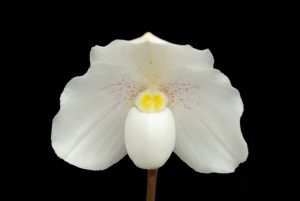 Additional information
| | |
| --- | --- |
| size | Seedling, Small, Near Flowering Size, Flowering Size, Large Multiple Growths |
Related products
Rated 5.00 out of 5

£19.85 – £34.25