Paphiopedilum niveum x sib ('New Zone' x 'Oriental Express')
Paphopedilum niveum
Sibling of two selected clones of this species. Both parents are very round with great substance.
The flowers typically last about 6 weeks and emerge once or sometimes twice per year.
Picture is of a standard niveum.
PLEASE NOTE: Since this is a Seedling Population (not a Mericlone which produces exact duplicates), the picture is for illustration purposes only. No two plants will be the same from this cross, and they will flower in a range of possibilities coming from the two parents.
Description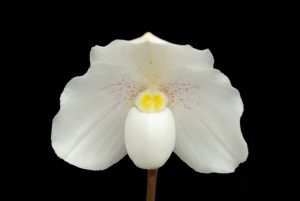 Additional information
| | |
| --- | --- |
| size | Seedling, Small, Near Flowering Size, Flowering Size, Large Multiple Growths |