Paphiopedilum stonei 'The Best' x Johanna Burkhart 'Strokes of Midnight' FCC/AOS
8th August 2022

Paphiopedilum villosum var boxallii fma stratum x sib ('Tiger Eye' x 'Black Mountain') PAS0623
9th August 2022
Paphiopedilum delenatii fma. vini (dunkle) 'Purple Delight' AM/AOS x self
£48.25
Paphiopedilum delenatii fma. vini (dunkle) 'Purple Delight' AM/AOS x self
Sam selfed this recently awarded species. The leaf tips of these plants are almost soild purple and the flower color is also very dark.
Hope the best will come threw these seedlings!
PLEASE NOTE: Since this is a Seedling Population (not a Mericlone which produces exact duplicates), the picture is for illustration purposes only. No two plants will be the same from this cross, and they will flower in a range of possibilities coming from the two parents.
Description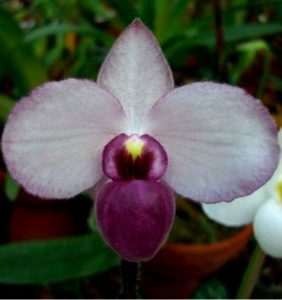 Additional information
| | |
| --- | --- |
| size | Seedling, Small, Near Flowering Size, Flowering Size, Large Multiple Growths |