Paphiopedilum glanduliferum var. praestans x sib (Sam's Choice x Yellow Giant)
15th July 2021

Paphiopedilum spicerianum x sib (Fat Boy x Twin Trails) OIV0042
2nd August 2021
Paphiopedilum Booths Sand Lady (Lady Isabel 'Jumbo Lady' x sanderianum 'Lady in Red')
£84.25
Paphiopedilum Booths Sand Lady (Lady Isabel 'Jumbo Lady' x sanderianum 'Lady in Red')
Remade using our huge Lady Isabel and crossed with one of our best color sanderianum.
We hope for some very large and rich color flowers similar to Formosa Lady but with much larger flowers!
PLEASE NOTE: Since this is a Seedling Population (not a Mericlone which produces exact duplicates), the picture is for illustration purposes only. No two plants will be the same from this cross, and they will flower in a range of possibilities coming from the two parents.
Description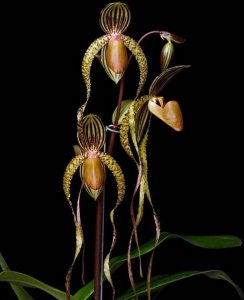 Additional information
| | |
| --- | --- |
| size | Seedling, Small, Near Flowering Size, Flowering Size, Large Multiple Growths, Double seedling pot |