Plant pot carry/support trays – different sizes available – 12, 15 and 28 holes
13th October 2023
Phragmipedium Lemoinerianum (Calurum x Sedenii) #00659
18th October 2023
Paphiopedilum barbigerum x sib ('Lady Bird' x 'Hawk')
£28.25 – £48.25
Paphiopedilum barbigerum x sib ('Lady Bird' x 'Hawk')
Fantastically compact and easy flowering, All in a 2″ pot .
It is known commonly as the beard carrying paphiopedilum. It is native to China, Vietnam, and Thailand.
Paphiopedilum barbigerum is a very good candidate for windowsill or under-light culture. Its low light requirements and small size make it an ideal orchid for a beginner. if You have limited space, Here is the plant for you! This species is very compact growing and will reward you with lovely flowers in the autumn and winter months.
In the wild this orchid grows in soil, on rocks, or on tree trunks in limestone habitat types. It produces 4 to 6 linear green leaves up to 19 centimeters long. It blooms in a single flower on a hairy brownish stalk. The flower is up to 8 centimeters wide. The dorsal sepal is white with a greenish or brownish spot at the base. The synsepal is pale green and the petals are brownish with pale edges. The staminode is yellow.
PLEASE NOTE: Since this is a Seedling Population (not a Mericlone which produces exact duplicates), the picture is for illustration purposes only. No two plants will be the same from this cross, and they will flower in a range of possibilities coming from the two parents.
Description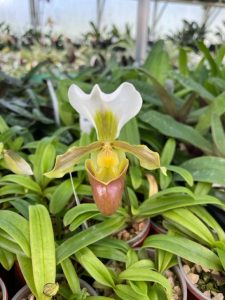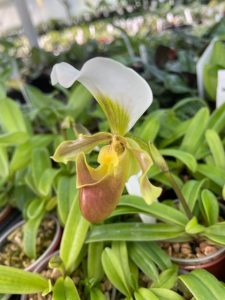 Additional information
| | |
| --- | --- |
| size | Seedling, Small, Near Flowering Size, Flowering Size, Large Multiple Growths |
Related products
Rated 5.00 out of 5

£124.25