Paphiopedilum affine 'Westwood'
This extremely rare Paphiopedilum species is native to the Indo-China region. It is closely related to villosum and boxallii. This particular clone was originally owned by Dr. Clarence Schubert from the Madison Wisconsin area. He was a world famous Ear, Nose and throat Doctor that treated royalty throughout Europe and Russia as well as patients in the United States. Dr. Schubert would often visit England and purchased the best plants he could get from the famous nurseries of the day like Keeling's Veitch and Sander's. This unusual species has very faintly mottled leaves and typically flowers in winter.
PLEASE NOTE: This is a division of our mother plant, so the flowers will match the photo.
Description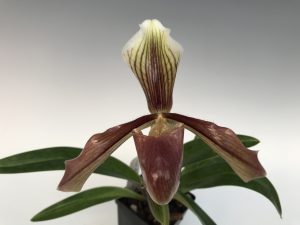 Additional information
| | |
| --- | --- |
| size | Seedling, Small, Near Flowering Size, Flowering Size, Large Multiple Growths, Double seedling pot |