Anoectochilus roxburghii hayata "Pointed leaves" MA13D
3rd August 2021

Macodes petola MA2(NS53)
3rd August 2021
Anoectochilus roxburghii hayata "Hong Sia" MA13C
£14.25 – £24.25
Anoectochilus roxburghii hayata "Hong Sia" MA13C
Healthy plant growing in 6cm pot. Lovely veining on the leave!!
These plants are absolutely stunning, photos can't do them justice!
PLEASE NOTE: Since this is a Seedling Population (not a Mericlone which produces exact duplicates), the picture is for illustration purposes only. No two plants will be the same from this cross, and they will flower in a range of possibilities coming from the two parents.
Description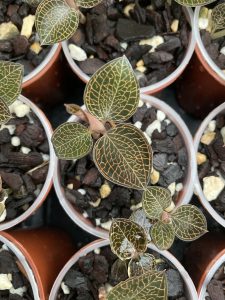 Additional information
| | |
| --- | --- |
| size | Double seedling, Seedling, Small, Near Flowering Size, Flowering Size, Large Multiple Growths |